34-year-old described by victims as 'monster' gets prison time for sex trafficking 3 girls in Lincoln
A district judge Thursday sentenced a 34-year-old man to 28 to 38 years in prison for his part in sex trafficking three girls in Lincoln and sexually assaulting one, a 14-year-old.
Luis Vasquez-Chiquirin pleaded no contest to attempted sex trafficking and first-degree sexual assault but continued to deny having a leading role in the scheme to get money for setting up sex with underage girls.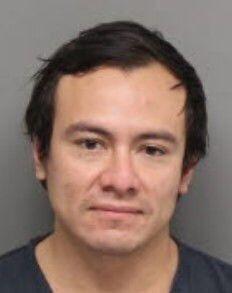 Deputy Lancaster County Attorney Chris Reid asked for a lengthy sentence, given the nature of the charges, the number of victims and the exploitation that took place.
He said sex trafficking of minors wasn't a crime in state statute until a few years ago but has become a greater focus recently.
"It's not that this crime never existed 10 years ago. We're just better at identifying victims and these crimes occurring in our county than we used to be," Reid said.
He said this case involved three high-risk youths, some of whom were runaways. They were given drugs. Two were put in a bedroom with multiple men and told to have sex with them and Chiquirin benefitted financially from it.
"In meeting with them throughout this case, they all have described to me in their words that he is a monster and someone who needs to be put away for a long time," Reid said.
Lincoln Police say the investigation started when they found a 14-year-old runaway at an apartment near 56th and Holdrege streets who said she was being trafficked.
She told police she was given meth to use with a group of men, then had sex with three or four of them. After, Chiquirin handed her $80 and told her she'd "earned it."
Another time, she said Chiquirin set up sex acts for her and a 15-year-old friend, telling her he would call the police on her if she didn't do what he wanted.
Chiquirin and his roommate, Jose Rivas, ended up facing charges, along with a third man, Troy Springer.
Defense attorney Eddy Rodell said Chiquirin maintains he had a lesser role than the others but accepted responsibility for what he did.
When he gets out of prison, he'll be deported to Guatemala.
Chiquirin, who took English classes at the jail, told the judge he was sorry for his mistake and what the girls are going through, but said he "wasn't guilty of everything what they are charging me."
"I'm here to take responsibility for what I've done. I'm sorry. That's all I can say," he said.
In the end, Lancaster County District Darla Ideus said she thought Chiquirin's involvement in the enterprise was "significant." One witness described him as the one responsible for finding the men to pay for sex. Another said he had sex with her to "determine her worth."
Ideus said Chiquirin showed a lack of remorse and no empathy for the victims.
"Your pattern of behavior and your denial of wrongdoing as well as the ages of the children that you assaulted, all of these things make it clear to me that if you're not incarcerated you will continue to be a danger to the community because I think you will continue this type of behavior," she said.
Chiquirin will have to serve 19 years before he's released and deported.
Counties with the shortest life expectancy in Nebraska
Counties with the shortest life expectancy in Nebraska
#42. Saline County
#41. Saunders County
#40. Thayer County
#39. Douglas County
#38. Dawes County
#36. Dawson County
#36. Clay County
#34. Madison County
#34. Jefferson County
#29. Furnas County
#29. Merrick County
#29. Howard County
#29. Red Willow County
#29. Butler County
#27. Hall County
#27. Adams County
#25. Gage County
#25. Lincoln County
#23. Dundy County
#23. Box Butte County
#19. Dakota County
#19. Nuckolls County
#19. Johnson County
#19. Boyd County
#16. Cheyenne County
#16. Richardson County
#16. Polk County
#14. Webster County
#14. Nemaha County
#12. Morrill County
#12. Pawnee County
link