Gov. Lujan Grisham to ask Legislature to create new health agency | Government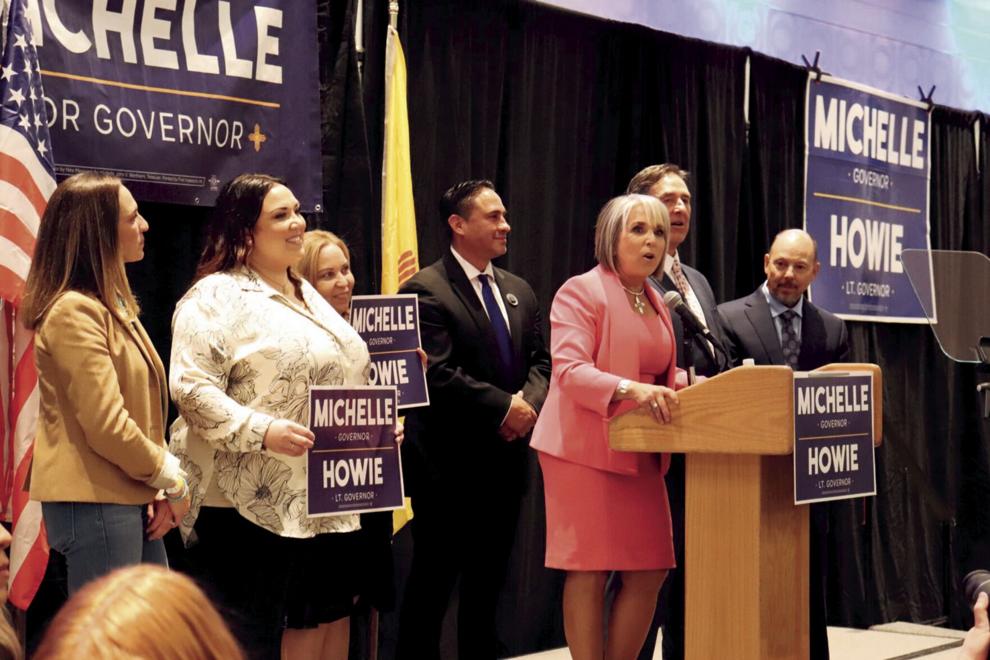 As she was sworn in to a second term, New Mexico's head of state announced she wants to create a new state health agency with the goal of getting more people insured.
Details are still sparse about the function of the New Mexico Health Care Authority, an initiative announced by Gov. Michelle Lujan Grisham in her 2023 inaugural address on Sunday at the Lensic Theater in Santa Fe. 
"This authority will streamline the government's efforts to support families and their health care needs while more effectively holding insurers accountable," she said.
At its core, the proposal seeks to make it easier for hundreds of thousands of uninsured New Mexicans to get access to health insurance plans. Creation of the agency requires approval by the Legislature. 
Lawmakers will also have to determine what the Health Care Authority could do that can't already be done by New Mexico's existing health agencies, and it's still unclear which state lawmaker will sponsor the proposal at the Roundhouse. The measure getting announced during inauguration festivities signals this is a priority for the Democratic governor, whose party also controls both chambers in the Roundhouse.
The Health Care Authority would be "a comprehensive entity that will expand access to services and cut through the red tape that keeps too many New Mexicans from getting the affordable, high-quality care they need," Lujan Grisham said.
Delaney Corcoran, spokesperson for Lujan Grisham's campaign, referred all questions about the proposal to Press Secretary Nora Meyers Sackett. So did Jodi McGinnis Porter, spokesperson for the state Department of Health.
The Health Authority would buy and oversee health insurance "with the goal to provide high quality, affordable health care by leveraging agency programs under one authority," Meyers Sackett said in an emailed statement.
There are about 215,000 New Mexicans who are uninsured, according to Health Action New Mexico. Another 100,000 are expected to be kicked off Medicaid once the U.S. government declares the end of the public health emergency for COVID.
The proposal has not yet been presented as actual legislation, said Barbara Weber, executive director of Health Action New Mexico.
"We were glad to hear that something is being proposed, and we want to see what it is," Weber said in an interview on Tuesday. "The devil will be in the details, I think."
More information will come as plans are finalized ahead of the upcoming legislative session, Meyers Sackett said. Tuesday was the first day bills could be pre-filed. The session's opening day is Jan. 17.
There is no single model for a health care authority, Weber said. She pointed to examples of health authorities in Oregon, Washington, and Oklahoma.
"It's very dependent on what the particular interests are in terms of looking at the system and challenges for that particular state," she said.
Lujan Grisham on Dec. 30 appointed Patrick M. Allen as New Mexico's newest health secretary. Allen resigned from his post at the Oregon Health Authority one month after the Willamette Week reported that all three candidates for that state's governor agreed the Oregon Health Authority was the state agency most in need of additional oversight.
Lujan Grisham announced the proposal for a New Mexico Authority right after saying in her speech that every New Mexican is entitled to "achieve freedom from addiction and mental illness" and that "we should treat high-quality health care as a fundamental right."
New Mexico's behavioral health care system still has not recovered after former Gov. Susana Martinez caused many providers to shut down a decade ago.
"We will approach opioid addiction as the epidemic it is, fighting tooth and nail to provide life-saving services to victims and families who have been torn apart by this horrific disease," Lujan Grisham said. "We must approach the expansion of behavioral health care — including substance abuse treatment — as an urgent moral priority."
The governor's address also touched on better health outcomes expected as a result of the state's investments in free universal child care and pre-kindergarten education.
She said she will also ask state lawmakers to "increase our public school budget this year to cover all health care premium costs for all educators and school workers."
link